Environment Minster Edwin Poots MLA has encouraged households and businesses to recycle more as the Covid-19 pandemic has presented the waste sector with many challenges.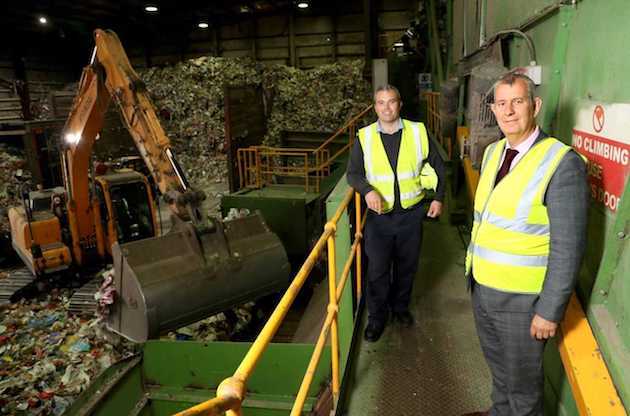 During a tour of family run business Re-Gen Waste Ltd in Newry, Co Down, Minister Poots met with Managing Director Joseph Doherty and senior management to discuss their research and development work and wider challenges facing the waste sector as a result of the Covid-19 pandemic.
Following his visit, Minister Poots said: "I welcomed the opportunity to meet with Joseph and his team and see the advances Re-Gen Waste has made through their research and development work and to discuss the challenges facing the waste sector. I also recognise the level of employment they have brought to the local area.
"The Covid-19 crisis has shown us the essential nature of the waste sector and I commend ReGen for keeping our waste moving during the crisis. Without waste businesses like this continuing to function in the face of the challenges Covid created there would have been a severe detrimental impact on our recycling rates.
"In Northern Ireland we are already in a good position in terms of waste and recycling. The household waste recycling rate for 2018/19 is 50%, meeting the Northern Ireland Waste Management Strategy target of 50% by 2020 nearly two years ahead of schedule but it is important to keep this good work up to assist with the plans my officials are developing for recovery and renewal post-Covid-19"
"Continuing to recycle our waste is very important during this pandemic, to make sure that material flows are safeguarded. Safeguarding this flow also helps us to continue to deliver a low carbon, circular economy agenda, despite our current challenges."
With businesses recently re-opening and the hospitality sector preparing to do so, Minister Poots has encouraged more recycling.
He added: "As businesses and the hospitality sector begin to fully function again I would encourage them to recycle more material.
"With approximately 56,000 businesses and organisations in NI there is the potential to make a significant contribution to the overall municipal recycling rate. It is estimated these businesses and organisations currently generate 773,480 tonnes per annum, with the potential for them to increase recycling to more than 80% by 2035 or 673,015 tonnes per annum.
"My emphasis for recycling initiatives is to realise the value of recycling to the local economy. Improving the quality of recycling and reducing contamination will deliver both environmental and economic benefits. I will continue to work with all stakeholders to maximise the value of waste for the local economy."